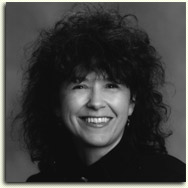 Pam Binder is the nationally bestselling author of unique stories richly textured with time-bending flights of fantasy, other-worldliness and a reverence for history. Romantic Times magazine has dubbed her, "The New Queen of Highland Time Travel."
Pam grew up in the French Quarter of New Orleans under the influence of her grandmother, Irene Zollinger, a poet and painter who had an operatic quality voice, played the piano and was listed in Who's Who of American Women. When Pam moved to the Pacific Northwest with her family, the letters she sent to her grandmother were always returned with the spelling and grammar corrected (and five dollars for the 'kitty' she insisted every woman should have). Pam now lives in Issaquah with her husband of 33 years. They are the parents of three grown children.
Her first novel, THE INSCRIPTION, sold in 1997 to a small press. The following year, Pam's agent sold the mass market paperback rights to Pocket Books along with her second hardcover medieval time travel, THE QUEST. Her third novel, THE ENCHANTMENT is also a Highland time travel that visits the recurring theme in her novels, "Time is an illusion and love, the only reality." Based on Celtic lore, the theme is not only a literary vehicle for her, but a personal belief as well.
Pam is currently working on her fourth novel, NOW AND FOREVER, a romantic time travel set in medieval Ireland.
Visit Pam's own website: www.pambinder.com
---
Coming Soon:
The Enchantment (September 2001)
Backlist:

THE INSCRIPTION (January 2000)
THE QUEST (August 2000)
A SEASON IN THE HIGHLANDS (November 2000)