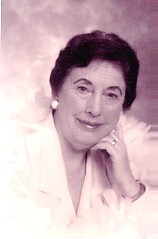 Nadine Miller is the author of one contemporary and seven Regency novels, including THE BARBARIAN EARL, a December 1999 release, and has recently signed a contract with Signet for two more Regencies to be released in the year 2000.

She has been a member of RWA since 1988 when she and her husband retired after twenty years as International ballroom dancers, and has served as Secretary of both the Seattle and Tacoma chapters.

An enthusiastic advocate of romance fiction, she has given numerous writing workshops for the six Western Washington RWA chapter, the King County Parks Department, and the King County Library System, where she is featured in the King County Library Author Showcase. She has given workshops at the last three Emerald City Writer' conferences and will give another this year on "Putting Humor in Your Romance Novel".

Twice a RITA finalist, she was winner of the Romantic Times W.I.S.H. award, and best Regency of both 1997 and 1998 in the Emerald City Writers' contests. Her April 1998 book, AN UNLIKELY ANGEL and August 1998 THE MADCAP MASQUERADE were both the Romantic Times picks of the month. She's been nominated for four Romantic Times Reviewers' Choice Awards, including Best Regency of 1998, and is one of five Regency writers nominated in 1999 for the Romantic Times Career Achievement Award.

When she is not writing, Nadine is busy being a doting grandmother to her four grandchildren, collecting antique African art, and pursuing her favorite hobby -- gourmet cooking.

---
BACKLIST:

THE DUKE'S DILEMMA (Special Order), February 1996, Signet Regency
THE GYPSY DUCHESS (Out of Print), September 1996, Signet Regency
THE MISGUIDED MATCHMAKER (Special Order), May 1997, Signet Regency
THE UNLIKELY ANGEL, April 1998, Signet Regency
THE MADCAP MASQUERADE, August 1998, Signet Regency
A TOUCH OF MAGIC, May 1999, Signet Regency
THE BARBARIAN EARL, December 1999, Signet Regency
THE YORKSHIRE LADY, January 2001




Order now!