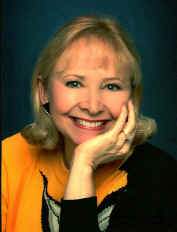 Melinda Rucker Haynes

Award-winning author, educator, and speaker Melinda Rucker Haynes escaped academe where she conducted and published education research. Experimenting with a creative change of pace, she had great fun writing a young adult paranormal romance that won the prestigious Romance Writers of America Golden Heart and continues to win awards. She is a charter member and former board member of Eastside Romance and has won two RWA newsletter editing awards.

A former teacher trainer and curriculum developer, Melinda developed and constructed STORY COMPASS©, a creative development, multidisciplinary instructional tool marketed on the Internet and through her DISCOVER THE NOVEL WITHIN© creative writing workshops. Melinda is a certified hypnotherapist and conducts PERSONAL TIME TRAVEL© regression hypnosis and motivational sessions/workshops at writers' conferences. She has presented hundreds of workshops and seminars on electronic publishing, writing, motivation, education, creativity, and paranormal research.

Always looking for adventure, Melinda sets her novels in interesting places she's lived or visited, especially the West. After seven years of submitting and "good rejections", Melinda sold her first novel in June of 1998 and has since contracted for nine more novels with three electronic publishers. She loves to teach, present workshops, fly every chance she gets and plan her next adventure to write about.

COMING SOON:

THE HAUNTING OF JOSH WESTON (First in a five part series!)

BACKLIST:

GHOSTLY ACTS (Re-released through Avid Press)
A WING AND A KISS August 1999
THE TURNABOUT (short story)
THE ETERNAL TRUST June 2000



Click the cover to buy the book from Hardshell!
Come visit Melinda's Website!
Email Melinda!