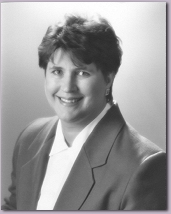 Janice Kay Johnson
The author of forty-one published or forthcoming books, Janice Kay Johnson has lately found her niche with Harlequin Superromance: she has published fourteen, including last year's Patton's Daughters trilogy, and four more are scheduled in the next year. She's been a two-time RITA finalist with her Superromances.
A former librarian with a B.A. in history from Whitman College and a M.L.S. from the University of Washington, Johnson worked as a public librarian until the sales of her first two romances - co-authored with her mother - allowed her to turn full-time to writing. After doing four romances for Signet with her mother, Johnson tried a young adult novel - and sold it to Signet as well. Since then, she's published six novels for teenagers with Signet, Bantam and Crosswinds, as well as a picture book with Simon & Schuster. Under several difference pseudonyms, she's published Kismet Romances, Silhouette Intimate Moments, and Temptations, as well as two historical novels for Tor/Forge. The first, WINTER OF THE RAVEN, is to be reprinted in paperback in September 2000.
An active volunteer and board member at a no-kill cat shelter, Johnson is kept busy as well by her two teenage daughters. Look for her new trilogy, THREE GOOD COPS, in 2001!
COMING SOON:
HIS PARTNER'S WIFE (Three Good Cops #1) July 2001
THE WORD OF A CHILD (Three Good Cops #2) September 2001
BACKLIST:

SEIZE THE DAY (Out of Print) Harlequin Superromance January 1992
HOME AGAIN (Out of Print) Superromance August 1993
HER SISTER'S BABY Superromance January 1995
IN THE DARK OF THE NIGHT (Out of Print) Superromance June 1995
HIS FRIEND'S WIFE (Out of Print) Superromance January 1996
WHAT SHE WANTS FOR CHRISTMAS (Out of Print) Superromance December 1996
THE MIRACLE BABY (Out of Print) Superromance April 1997
BEAUTY AND THE BEASTS Superromance October 1997 (Special Order)
FOR MY DAUGHTER (Anthology "Mother Knows Best) May 1998
THE FAMILY NEXT DOOR Superromance May 1998 (Special Order)
A WOMAN IN BLUE Superromance August 1999
THE BABY AND THE BADGE Superromance September 1999
A MESSAGE FOR ABBY Superromance October 1999
WHOSE BABY? Superromance February 2000
JACK MURRAY, SHERIFF Superromance May 2000
WINTER OF THE RAVEN Tor Historical, September 2000
BORN IN A SMALL TOWN (Anthology "Promise Me Picket Fences") September 2000
THE DAUGHTER MERGER Superromance October 2000
THE ISLAND SNATCHERS Tor Historicals, November 2000


Buy it today!
Visit Janice's Website!
Email Janice!