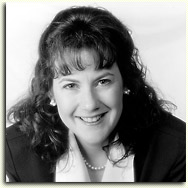 Elizabeth Boyle
Elizabeth Boyle, a former pirate hunter for Bill Gates and now a full-time writer, has written stories since childhood, including tales about her imaginary friend, an oversized Holstein named John Clapper, eventually graduating to notebooks of the usual bad, adolescent poetry that only an angst-ridden teenager can conjure.
After college and a stint of traveling, Elizabeth began writing what she loved to read: romance novels. She completed four manuscripts before BRAZEN ANGEL won the Dell Diamond Debut Award in 1996. Since its publication in 1997, BRAZEN ANGEL has won the RITA for Best First Novel, as well as the Romance Communications' Reviewer's Choice and Readers' Choice awards, and was nominated for the RITA for Best Long Historical.
Her fourth book, NO MARRIAGE OF CONVENIENCE, a historical romance for Avon was published in September 2000.
Coming Soon:
ONCE TEMPTED (July 2001) Avon
BACKLIST:
BRAZEN ANGEL (August 1997) Dell
BRAZEN HEIRESS (January 1999) Dell
BRAZEN TEMPTRESS (June 1999) Dell
NO MARRIAGE OF CONVENIENCE (September 2000) Avon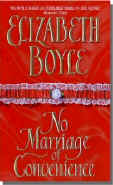 Order it today!
Come visit Elizabeth's website!
Email Elizabeth!